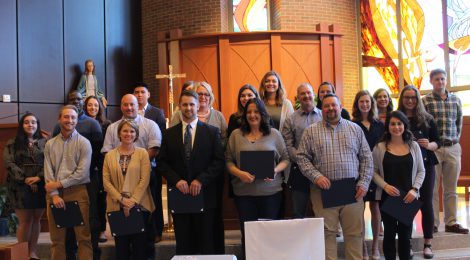 On Thursday, April 19
, TMC held the 2018 induction ceremony for Delta Epsilon Sigma (DES), the national scholastic honor society for students, faculty, and alumni of colleges and universities with a Catholic tradition. 
Twenty-six students were inducted into DES, representing over 15 programs and majors. 
This unique group encompasses the entire student population: traditional, non-traditional, undergraduate and graduate students. Membership in this society also directly relates to the College's mission
of challenging students of all faiths to examine the ultimate meaning of life, their place in the world, and their responsibility to others. 
The two primary criteria for membership are academic excellence and a commitment to community service. R
ecognition includes gold cords to be worn at graduation, DES pins, and certificates. Members are also eligible for scholarships towards undergraduate education and fellowships for graduate and professional schools.
In addition to the induction ceremony, DES recognized a local community service agency with an award honoring their work and value to the community. This year's recipient is The Housing Opportunities of Northern Kentucky (HONK), represented by Mr. Dave Hastings, Executive Director and Steve, the Construction Manager. 
DES Advisor 
Dr. Chris Lorentz
, Professor and Director of the Environmental Science Program and Biology Field Station
, and Abby Stadtmiller, DES Student President, presided over the ceremony. Dr. Kathleen Jagge
r, 
Vice President for Academic Affairs and Dean of the College,
 offered closing remarks.