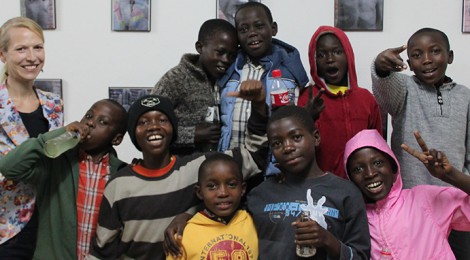 Amber Dwyer '98 brought photography to the Rwandan Orphans Project and let them tell the story.
In some of the photos, you can see cheesy smiles with gleaming white teeth. In others, there are no smiles. One features a young man, straight-faced, staring through a dirty window. Another captures a boy sitting on a bed, one in a row of many. Several photos capture the same image from different angles – razor-sharp spikes poking the blue sky, protruding from the top of a dirty wall, a barbed wire of sorts. Collectively, the photos provide a glimpse of what life is like at the Rwandan Orphans Project (ROP), a home for former street boys in Kigali, Rwanda.
Until recently, photos taken by the residents of ROP did not tell the story of the boys in front of or behind the camera. Amber Dwyer changed that. Dwyer, a Thomas More College alumna, was the Global Engagement Manager for the Museum of Photographic Arts (MOPA). Today, she is the Senior Development and Outreach Communications Specialist for the United States Agency for International Development.
Dwyer arrived in Rwanda in September of 2012 with her husband, Bryan, who works in the Peace Corps. Armed with 25 digital cameras, Dwyer says her goal was to "intersect photography education in three key areas: critical thinking, creative problem solving, and cross-cultural awareness." Dwyer developed partnerships with ROP as well as an HIV/AIDS clinic. "My classes were custom-built for each group of students, for example, the staff at the HIV/AIDS clinic told me that their teen patients tend to unidimensionalize their sense of identity. In other words, they only see themselves as teens with HIV; so my classes encouraged them to photographically explore everything else in their lives that is common to all teens—their hobbies, families, routines, community, interests, etc.," Dwyer explains.
While Dwyer currently lives about 7,600 miles from TMC's Crestview Hills campus, she credits her experience at the college with shaping the woman she has become. "I was helped tremendously by the small community feel of TMC. I knew my teachers well, and they knew me. They identified my strengths and they encouraged me. That kind of support was priceless, and I still appreciate it to this day," Dwyer says. Dwyer's focus was primarily on drawing and painting. She credits a liberal arts education with preparing her well for the world outside of Crestview Hills. "Years later, I am so glad to have gone to a liberal arts college. My courses in philosophy, anatomy/physiology, psychology, theology, history, and others all helped to give me a multidimensional understanding of the world," Dwyer says. "I've been able to integrate various disciplines throughout my career, whether it was developing photography programs for people with Alzheimer's or teaching medical students diagnostic skills through looking at paintings."
After graduating from TMC, Dwyer took a job with the Cincinnati Art Museum. While she was working there, she took a vacation to Peru in 2004. "Though I had always been sensitive and knowledgeable about the developing world, that was the first time I had actually experienced it with all of my senses, " Dwyer recalls. "The impact was deep, and my response was immediate in that I began looking for ways to volunteer/work in a developing country."
Dwyer determined the Peace Corps was her best option. She quit her job, sold her house and car, put most of her belongings in storage, and became a Peace Corps volunteer in El Salvador. "It is one of the best decisions I ever made," she says. While in Suchitoto, El Salvador, a local art organization received a donation of several used cameras. Dwyer was asked to teach a photography class to children in the village. "The kids took to photography right away, and eventually became very thoughtful and deliberate in their choice of subjects and composition."
That experience gave Dwyer a strong advantage when she applied for a position at the Museum of Photographic Arts in San Diego, California. Through her position at MOPA, Dwyer helped serve approximately 20,000 people annually with photography education programs, from students through senior adults. Dwyer tendered her resignation when she and her husband prepared to leave for Rwanda; that's when MOPA asked her to take on a brand new role as Global Engagement Manager. The position would allow her to develop and teach photography education programs remotely in Rwanda, which led her to the children at the clinic and orphanage.
"My favorite part of each class was looking through the cameras afterward to see my students' photos," Dwyer says. "One boy in particular at the orphanage was very quiet and thoughtful, and all of his photos were very poetic. He focused intensely on the sky, cloud formations, and birds or planes in flight. He obviously found something wonderful in the sky, and I was glad he shared that with me." The photos aren't only bringing Dwyer's students' lives into clear focus; they are also creating quite a buzz. Recently, a number of their photographs were displayed at an exhibit in Kigali. On opening night alone, 17 of the photos sold, raising more than $700 in much-needed funds for the orphanage. That same week, one of their photos sold for $2,000 at an auction at MOPA.
"It is my opinion that strengthening critical thinking and creative problem solving skills is a very important pursuit in the developing world," says Dwyer. "It is also my belief that art programs are some of the best ways to teach these skills. When I first joined Peace Corps, I thought perhaps art and international development belonged to two separate worlds. Now I think their intersection is crucial."
One look through the photos of Dwyer's students and that intersection is clear and real. Her students are orphans or children living with HIV/AIDS, but they have learned they are much more than that label. It's a lesson that came into clear focus when Amber Dwyer handed them a camera.
To view more photos by the children at ROP, click here, photos from the children in the HIV/AIDS clinic can be viewed here.
For the blogpost and photos covering the ROP exhibit in Kigali click here.
For more photos from Amber and Brian's journeys visit flickr.com/photos/jamberlee.
SELECTED  ARTICLES  AND  PUBLICATIONS BY DWYER
"Celebrating Corn in Suchitoto," Revue Magazine 17 (August 2008): 120-121
"A House for Dreams to Be Made." Essay booklet produced in conjunction with the special exhibition Andrew Wyeth Watercolors and Drawings: Selections from the Marunuma Art Park Collection, Japan, 2007
"The Art of Observation: Impact of a Family Medicine and Art Museum Partnership on Student Education." Journal of Family Medicine 38 (June 2006): 393–98. Co-written with Nancy Elder, M.D., M.S.P.H., Barbara Tobias, M.D., and Linda Goldenhar, Ph.D.
"Drawn by the Brush: Oil Sketches by Peter Paul Rubens." Gallery guide to the special exhibition Drawn by the Brush: Oil Sketches by Peter Paul Rubens. Co-written with Marjorie Wieseman, Ph.D. and Andrew Haslit, 2005.
"Looking and Learning," School Arts Magazine 103 (May/June 2004): 35–40.
The Art of the Book: Illuminated Manuscripts in Local Collections. Co-written with Abby Schwartz, 2002.
"Daumier and the Birth of Political Caricature." Gallery guide to the exhibition The Human Comedy: Daumier and His Contemporaries, 2000.
"Miguel Covarrubias: Illustrations of African-Americans During the Harlem Renaissance, 1924-1930," ArtWords 4/5 (Spring 1999): 18-23.