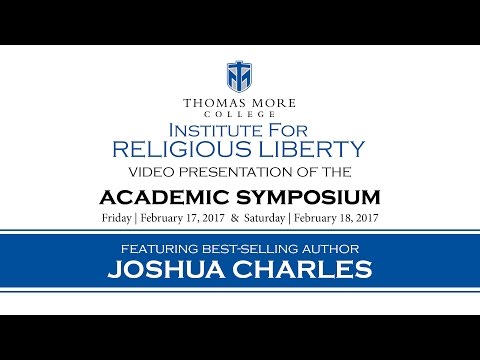 The Thomas More College Institute for Religious Liberty held an Academic Symposium on February 17 and 18, 2017 featuring Joshua Charles, best-selling author of Liberty's Secrets: The Lost Wisdom of America's Founders, and co-author with Glenn Beck of the #1 New York Times best-selling book The Original Argument. Charles presented the keynote address on Friday evening which was followed by a panel discussion including TMC's own J.T. Spence, Ph.D., and Hunter Baker, J.D., Ph.D., of Union University in Jackson, Tenn.
On Saturday Charles returned to serve is moderator for featured speaker Kevin E. Schmiesing, Ph.D., a research fellow for the Acton Institute and well-known author on Catholic social thought and economics. A panel discussion followed Schmiesing's presentation expounding upon the crucial link between religious liberty and economic freedom. Panelists include: Kevin Brown, Ph.D., Asbury University, Sister Mary Kay Kramer, CDP, Thomas More College alumna and adjunct professor, and Brett Greenhalgh, Cincinnati Ohio Stake President of the Church of Jesus Christ of Latter-day Saints and founding member of the Institute for Religious Liberty's Executive Committee.
All gifts, large and small, are vital to our future. Please consider donating to Thomas More College online today!