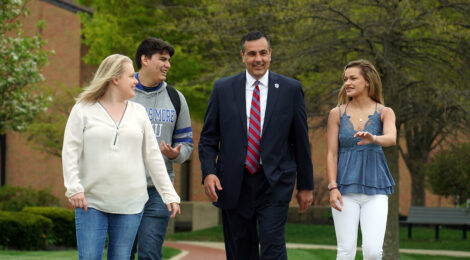 CRESTVIEW HILLS, Ky. (Nov. 9, 2021) — The Northern Kentucky Tribune names Thomas More University President Joseph L. Chillo, LP.D., among its 2021 NewsMakers. This recognition is bestowed to high-achieving, community servants in recognition of the significant roles they play in the Northern Kentucky community. The Tribune recognizes five leaders as NewsMakers, each diverse in their regional impact.
President Chillo is celebrated for his contributions to the community as a leader in values-based, Catholic education in the region, having ushered in numerous major accomplishments since arriving at Thomas More University in 2019. Board of Trustees Chair Judith A. Marlowe '69, Ph.D., describes Chillo's "relentless commitment to mission-driven leadership" when faced with the pandemic soon after arriving at the University. "Rather than 'hanging on' during his first two years, he has been laser focused on 'moving on' with intentional, strategic planning and execution that have achieved ambitious goals and strengthened the impact of Thomas More as a result," says Marlowe. Thomas More celebrated its centennial in fall 2021 to which Marlowe also acknowledged Chillo's impact on the future of the University, "Increased enrollment and retention are testimony to his dedication to student success. His vision is firmly fixed on making the second century even brighter by launching the most ambitious capital campaign in our history. That's good news for the region!"
The award ceremony is virtual this year. A daily story on the Tribune's website through the week of Nov. 8 celebrates each NewsMaker.
"It is an honor to be recognized by the Northern Kentucky Tribune as a NewsMaker and community servant to the region," says President Chillo. "My goal is to lead in service to the mission of Thomas More University and to the community. As we move into our second century, we want to see the advances of the University making a positive impact in the community. As our students venture out into the world after graduation, we want to ensure that all benefit from our continued focus on the innovative, Catholic Liberal Arts educational experience we provide at Thomas More."
For more information about Thomas More University, visit www.thomasmore.edu.
###
About Thomas More University
For 100 years, Thomas More has created a university for the student who wants to Be More, Do More, Seek More, Win More, Achieve More, and Create More. Since its founding in 1921, Thomas More has provided a mission-driven, liberal arts education that is based in the Catholic Intellectual Tradition. Students learn to harness the power of human reason to solve problems and discover truth, which allows them to begin the journey to become the person they were created to be. Entering into the second century, it's time for More. Serving more than 2,000 students, Thomas More aspires to be the premier Catholic university in the Cincinnati/Northern Kentucky region, to build upon the #1 ranking for long term gain in Kentucky (2019 Georgetown study) and share with this generation the transformative power of the Thomas More experience. To find out more, visit thomasmore.edu.
MEDIA CONTACT: Lyna Kelley, director of communications and PR, kelleyl@thomasmore.edu, 859.344.3309