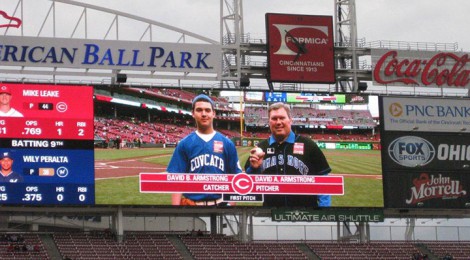 TMC faculty, staff, students and alumni were in full force at Great American Ball Park on May 2, despite the chilly weather, to witness President Dave Armstrong throw out the first pitch during Alumni Night with the Reds. Per Gapper, it was a strike!
I want to personally thank you for your support of the TMC night at the Reds game Friday.  It was wonderful to see (even with the cold weather and a loss by our hometown Reds).  We were a big part of a big weekend in Cincinnati with the game, Friday Night Fireworks and the Blind Pig Race.
Because of your efforts and the help of a special alumnus, Richard Lindhorst, I was able to enjoy an unforgettable moment with my son and father on a Field of Dreams!  Special thanks to several people in Institutional Advancement including Cathy Silvers, Tony Roderick, Monica Ginney, Greg Macke and Kim Harp (& anyone I missed) for pulling this event together.
Although it was personally gratifying for me and my family, what I liked most was TMC was front and center on a big night in the region.
If you were not able to make the game here is video from that night: