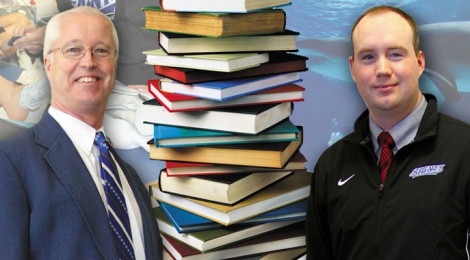 Introducing the latest programs and initiatives
Marching Band – Meet Band Director Randy Webb
New band director Randy Webb has been busy recruiting students for the TMC Marching Saints, who take the field next school year. Randy has 30 years of experience directing high school bands (largest band he's directed: 190 students), but this is his first time directing a collegiate band. Since there are not band competitions at the collegiate level, it will be a change of pace for him. "I enjoyed the competition aspect of high school band, but removing the focus on competing will give us the chance to focus on the type of music we want to perform for the crowds. In competitions, you think more about the judges than the audience. Now we can play to the audience and choose music that they want to hear." Their performances will be entertaining and he says they will choose popular music.Randy knew two of the students signed up for band next year from their high school band days at Lloyd Memorial High School and George Rogers Clark High School, but most of them he will not know. "As a college director, you don't know the skill levels of the students coming in. It is really a molding process. The challenge is to work with various skill levels and make them successful."
You won't want to miss the inaugural season of the TMC Marching Saints, which President Armstrong hopes will grow into the biggest and best band in Division III. Their first performance will be at halftime during the Sept. 27, 2014 home football game. To get ready, Randy will be holding a three-day band camp on campus where students can meet each other, work with the band director and get a head start. The marching band will also perform at the basketball games as the "pep band." Look for more information at thomasmore.edu/band.
Band classes are to be held on Monday, Wednesday and Friday afternoons. Performances will be at athletic home games and special occasions.
Creative & Performing Arts Combine – Meet Coordinator Elliott Nickeson
Elliott Nickeson joins Thomas More College from the University of Toledo where he was the assistant director of athletic bands. New to Northern Kentucky, his current title is Coordinator of Recruitment for the Performing Arts and Assistant Director of Bands. He enjoys working with students in a recruiting capacity and his prior experience includes being a recruiter for the United States Marine Corps. He also served for four years in Washington, D.C. with "The Commandant's Own," the U.S. Marine Drum and Bugle Corps. He is able to use the communication skills he gained in the military to convey to students that they can follow their passions and still land a job after graduation. There are numerous careers in the arts, but if students want to pursue other career paths they will benefit greatly from the fact that they had a well-rounded liberal arts education with some study of arts during their college education.Recently, he met with a prospective student who plans to go into the veterinary field. She also has a strong interest in theater, so Elliott was able to explain how she could pursue her interests in the arts while being on the pre-veterinary track. She plans to obtain an associates degree in theater, which will add a valuable facet to her college experience. "Many students who were involved in the arts in high school think that they cannot continue in the arts in college. They may not understand the career opportunities they have before of them. I enjoy having the chance to help students understand their options," explained Elliott.
For more information about the TMC Marching Saints or other Creative and Performing Arts opportunities, contact Elliott Nickeson at 859-344-3517 or nickese@thomasmore.edu.
Athletic Training Program – Meet Brian Edwards
Brian Edwards has been named Director of the Athletic Training Program. This major will combine classroom education with clinical field experience to prepare students for a career in the allied health profession of athletic training. He joins Thomas More College from Urbana University in Urbana, Ohio, where he worked for 4 1/2years.The BS/MS in Athletic Training is a five-year program. During the first two years, classified as the "pre-professional" phase, each student will complete the program prerequisites and bachelor's degree requirements for a major in Athletic Training. Upon acceptance to the graduate program, the "professional" phase will begin in the fall semester of the student's third year. At the end of the fourth year, they will receive a Bachelor of Science in Athletic Training. At the end of the fifth year, they will earn a Master of Science in Athletic Training (MSAT) degree. TMC is the first institution in the Cincinnati area offering this type of program; other institutions offer only the Bachelor's Degree in Athletic Training.
The program will include clinical rotations, which begin in the third year. In the final year, students have the option of writing an original research thesis or participating in an internship. The internship can be done wherever they desire, even across the country.
TMC prospective students have shown great interest in the new program. Edwards says that students choose this major for a variety of reasons. Some want to stay involved in athletics or be around athletics in a medical capacity. Others want to enjoy the job satisfaction of working outside and having flexibility in their work environment. He says that approximately 80-90 percent of students who choose this major were athletes in high school or are college athletes. This innovative initiative will certainly make TMC more competitive in the marketplace. There are opportunities to create outside hospital affiliations to help promote the program, plus opportunities to add equipment and facilities. Community partnerships will be important for the success of this initiative.
"The attractive opportunity to start a program from the ground up is what prompted me to come here. I am looking forward to molding and designing the program to be a strong professional model. The choice to move my family from Piqua, Ohio, was a difficult one, but I am incredibly happy to be here." Edwards and his wife, Jessica, have two sons: AJ, age 7, and Macs, 9 months.
TMC Scholarship Extension
Financial aid has been extended to fifth year seniors. Effective Jan. 1, 2014, the College changed its financial aid policy to offer institutional aid for a fifth year in situations when a traditional full-time undergraduate student needs an extra semester or two to finish their primary degree and/or complete their academic goals. Offering aid for the additional year provides students with yet another resource to ensure that affordable access to a quality, faith-based education remains within their reach. Previously, financial aid was only offered for four years to traditional full-time undergraduate students at Thomas More College.
"I have come to understand the financial difficulty many students have in financing their degree when they must attend an additional semester or year," said President Armstrong. "As President, I am excited to remove any barrier to a student's success."
Thomas More has a strong history of creating opportunities for students to be successful and graduate from the institution. The offer of institutional aid for the fifth year complements initiatives such as the Thomas More Trust, a comprehensive set of financial aid awards, the TMC3 accelerated program, and the room grant program. These opportunities have helped numerous students attend and graduate from the College. For more information, please contact 859-344-3319.
Tobacco-free campus
Starting this June, TMC will prohibit all forms of smoking, chewing tobacco and e-cigarettes on campus. To help users kick the habit, smoking/chewing cessation programs are being developed that will be open to students, staff and faculty. A task force is finalizing details of the policy.