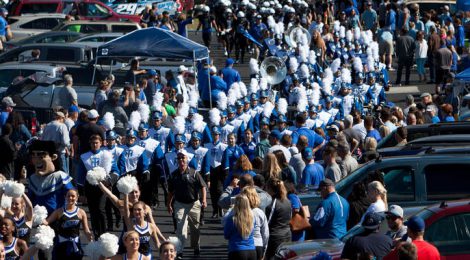 Thursday 10/11 | 6 p.m.
U(topia)-Fest: Block Party
Community block party on TMC's Crestview Hills campus, complete with food trucks and live entertainment. Plan to bring your friends and family to campus for a neighborhood-style party full of fun for people of all ages. Free and open to all.
Friday 10/12 | 6 p.m.
Class Reunion Celebration
A celebration inside The Saints Center as the classes of 1968, 1993, 2003, 2008, and 2013 gather on campus to catch up and celebrate.  Full bar, and heavy hors d'oeuvres. Business casual attire.
Class of 1968 – all events FREE. All others $25 per person. CLICK HERE to RSVP
Saturday 10/13
Homecoming Game | 10 a.m.
Saints vs. Muhlenberg Mules
Join us in the Saints Zone Alumni Tent located by Griffin Plaza before the noon kickoff. The Tent features all-day food and beverages including: cookout lunch, half-time food, adult/children's beverages, lawn games for children & adults. Admission includes a ticket for entry to the Saints game and Hall of Fame Awards Induction. Look for a post-game visit by TMC's football coaches! Gather your classmates, family, and friends for a full day of fun! 
$30-Alumni | $35-All others | Under age 12 FREE | Casual attire –  CLICK HERE to RSVP
Athletic Hall of Fame Awards | 4 p.m.
Join us after the Homecoming Game as the Alumni Association honors the newest class of inductees to the Athletic Hall of Fame: Matt Atkins '05 (Football), Dr. Dana Bors '11 (Softball), Abby (Gindling) Asman '13 (Soccer), John M. Griffin '66 (Baseball/Basketball), Chris Fishburn '10 (Baseball), Jody (Harris) Kirch '02 (Volleyball), Mike McPherson '66 (Baseball), Holly Roberts '03 (Basketball), Joe Roesel '65 (Basketball), Don & Anita '57 Schneider (Booster Club), Team of Distinction – 1965 Baseball Team
$15 per person/entry included w/Homecoming ticket –  CLICK HERE to RSVP
Questions? Call 859-344-3346 or email alumni@thomasmore.edu
*Alumni Association events are offered as a way to help alumni maintain their connection to TMC and fellow alumni. A nominal fee is charged per person in order to cover costs associated with these events. This charge is not a donation or gift to the College for fundraising purposes and only reimburses for the expense of the event.