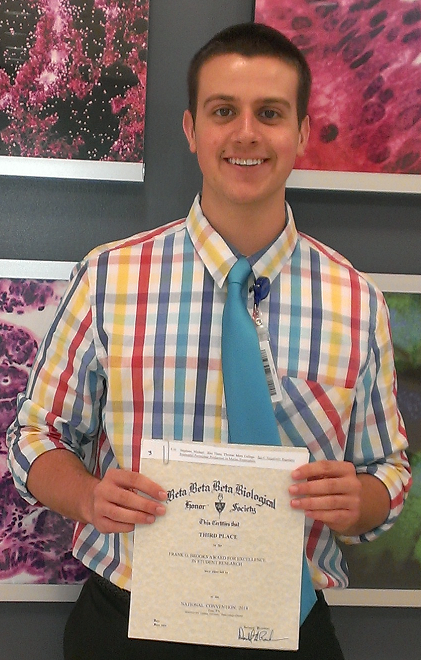 Michael Stephens, Senior Biology Major at Thomas More College, presented his research to a national audience June 5 at Beta Beta Beta's 2014 National Convention and won 3rd Place in the Cell, Organismal and Development Biology Division. The convention was held at at Gannon University in Erie, Pa.
Stephens' research, "Spi-C negatively regulates eosinophil peroxidase production in murine eosinophils," had been conducted at Cincinnati Children's Hospital Medical Center through the University of Cincinnati's S.U.R.F. (Summer
Undergraduate Research Fellowship) program.
At the Beta Beta Beta regional meeting in March, Stephens received 1st place
for his research, which earned him the opportunity to present at the national
convention along with regional 1st place district award winners from across the
country. Stephens received a stipend to cover travel costs, registration fees
and meals at the convention.
Stephens is a pre-med student at Thomas More College and is the Student
Government Association president for the upcoming school year. He is a graduate
of Covington Latin School.
"I'd like to congratulate Michael on this excellent recognition," said Dr. John
Hageman, Thomas More College Biology professor and Chapter Advisor for the Rho
Theta Chapter of Beta Beta Beta.
The 2015 Beta Beta Beta District NE-4 Regional Conference will be hosted by the
Rho Theta chapter at Thomas More College.
For more information about Thomas More College, please visit www.thomasmore.edu.