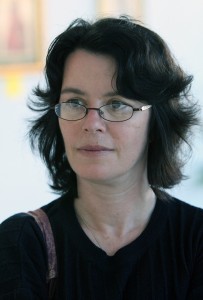 Take a break this October and pull up a chair with poet, translator, editor, teacher, radio host and publisher Katerina Stoykova-Klemer. Thomas More College's Creative Writing Vision Program hosts this renowned international author on Wednesday, October 16th at 7:00 p.m. at Joseph Beth Booksellers in Crestview Hills, KY for a free literary event. Katerina, a Bulgarian native who now lives in Lexington, will read from her newest book, The Porcupine of Mind, and discuss her life and multi-faceted creative career. Conversation and a book-signing will follow.
Katerina has published three previous collections of poetry: The Air around the Butterfly (Fakel Express, 2009), which won the 2010 Pencho's Oak award, given annually to recognize literary contribution to contemporary Bulgarian culture; The Most (Finishing Line Press, 2010); and Indivisible Number (Fakel Express, 2011, Bulgarian only). She is the host of Lexington radio show Accents (WRFL, 88.1 FM), which invites discussion of literature, art, and culture. In January 2010, Katerina launched Accents Publishing – an independent press for brilliant voices.
Thomas More College's Fall 2013 Creative Writing Vision Program Visiting Author Series is supported by a grant from the John A. Schroth Family Charitable Trust, PNC Bank, Trustee.