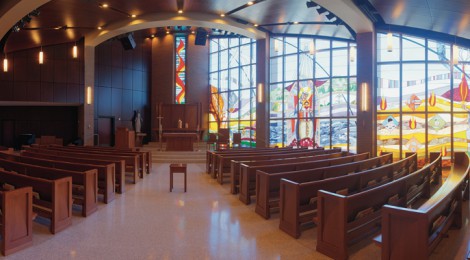 As the Director of Campus Ministry, I have grown accustomed to giving 30-minute tours from a Campus Ministry perspective. On a typical tour, after having left the Administration Building from under the breezeway with basic introductions having been made, I then look up over the trees and begin my "formal tour." Upon first sight of Mary, Seat of Wisdom Chapel, I begin to tell the prospective student and parent, "Our Chapel is literally at the geographic center of campus. The reason it is at the very center of campus is because Jesus is literally and figuratively the center of Thomas More College. We did this intentionally. Jesus is the beginning and end of all knowledge, and our faith-based institution communicates this through our Chapel."
It is after I say these words, when we are about halfway down the sidewalk to the Chapel (I can point to the exact place on the sidewalk), that without fail every student and parent becomes noticeably "moved" in agreement with this Christ-centered/faith-centered view of the campus. There is a sigh of relief on the faces of the parents as they turn to their son or daughter as though to say, "This is great, this is what it's about, YOU can be comfortable here because it is a place of faith." I add into the conversation at this point that this is a family, community-based college experience. The connection is then made that faith is what builds that family, community-based experience.
I continue my typical tour by saying, "Yes, we are a Catholic-Christian institution, and we also recognize that half of our students are not Catholic. We welcome them and there is a place for them on campus, to explore and live their faith out as well. We want them to feel comfortable and respect where they are coming from in terms of faith. That is part of the strength of the TMC experience." This also brings a sigh of relief from those parents whose son or daughter is not Catholic but are serious about their relationship with God according to their faith-community background.
After all of the tours that I have given for prospective students of different faith-backgrounds over the past year, I have come to experience ever more intensely that this is what Campus Ministry builds upon. It builds as though upon "the rock" of Jesus instead of the "shifting sand" which the Lord speaks about in the Gospel. In the Gospel, Our Lord advised us about how to build if you want your endeavor to last.
This message of how to build is enshrined by the very presence of Mary, Seat of Wisdom Chapel on campus. While I am certainly no expert in religious architecture or the theological implications involved, I do know that there are three points of importance from my perspective on campus which are the following: Bishop Roger J. Foys, our Chancellor, consecrated (consecrate: "to set aside for a holy purpose") Mary, Seat of Wisdom Chapel; the Chapel represents the literal Body of Christ; and Jesus is there (in the tabernacle) waiting for a "hello" from any student, faculty, staff or alumnus or visitor of Thomas More College, even if it is just for a moment (before a student takes a test, for example). He is here in our midst, accompanying us all as a friend on what St. John Paul II often called, "The Pilgrimage of Faith." We can be thankful to all of the benefactors that made this beautiful Chapel possible as an enduring sign that TMC lives out its call to be "salt and light" to all of society and to the future generations of TMC Saints. If you are ever on campus, be sure to visit and say a quick "hello."