CRESTVIEW HILLS KY, July 1, 2013 ­– David A. Armstrong, J.D., began his tenure today as president of Thomas More College. Armstrong is the College's 14th president. He replaces Sr. Margaret Stallmeyer, C.D.P., who retired after nine years as president.
"It's wonderful to be here at Thomas More College," Armstrong said. "Everyone is just as welcoming today as when we met during my interviews. I know I have big shoes to fill following Sr. Margaret and her successes. With her and everyone's help at Thomas More, we will succeed in reaching our goals."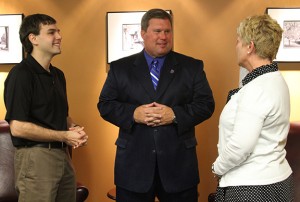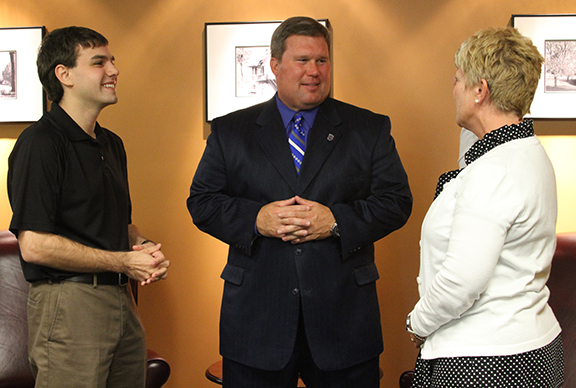 Armstrong will spend the next few weeks getting to know faculty and staff.
"I plan to meet with all full-time faculty and staff before the academic year starts on Aug. 21," he said. "Their feedback will be invaluable to me as I further develop my vision for the College."
Armstrong most recently was vice president and general counsel of Notre Dame College in South Euclid, Ohio, where he was instrumental in increasing enrollment and retention securing the largest gift ($2.1 million) in college history and developing new academic programs and initiatives, along with leading a re-branding campaign in 2010.
Armstrong holds a Juris Doctor from Cleveland-Marshall College of Law and a Bachelor of Arts in Political Science and Accounting from Mercyhurst University in Erie, Pa. He and his wife, Leslie, have two children, David and Johanna.