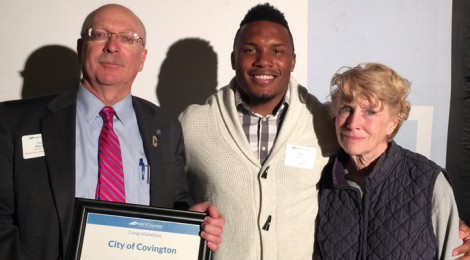 It's always refreshing to hear a student's success story and know that their work is having real world impact. TMC is blessed with students of outstanding character and talents and one such young man is Chris Tarrant. I had an opportunity to sit down with CT (as he's called by his friends) and discuss how he came to attend Thomas More College and talk about some of his achievements as an athlete and a student.
TMC was not part of CT's original college plan. It was after he had attended Ohio University and then Miami University in Oxford that he came for a campus visit. He had heard about the excellent academic programs and winning football tradition. The small class structure, along with a desire to continue his football career, sealed the deal and CT transferred to TMC to continue his studies in political science and take part in the Saints' athletic program.
As a Saints football fan, I have seen CT play. He was a member of the Big Blue football team at Hamilton High School in Ohio before bringing his talents to Thomas More. As a running back on the TMC offense, he has done well and is currently ranked fifth all-time rushing leader with 3,115 yards. Offensive Coordinator Trevor Stellman said of CT, "Chris was a constant leader on our team, showing his teammates the right way to do things, on and off the field. … (He) leaves Thomas More as a respected leader who always wanted to outwork his opponent. Chris' work ethic created a competitive edge that allowed him to be a respected leader on our football team and in our campus community."
It wasn't hard to tell as the interview progressed, that CT feels comfortable in the spotlight and relishes the role of leader, a quality not unexpected for a political science major. He easily articulates his goals as well as how he hopes to achieve them. CT shared that he has been interested in politics since he was a youngster, not afraid to debate any and every topic with friends and classmates. When asked if he could see himself in politics, he immediately responded, "Yes, I can see myself in politics, my passion – my dream job would be working on Capitol Hill (in Washington, D.C.), but not as an actual politician. That's just my dream, in reality I would love to work in local politics, I do believe that's where you can affect the most change in peoples' lives." CT also feels that Americans need to have a working knowledge of the political system and processes, and be active participants, especially at election time.
This love of politics made it easy for him to choose Dr. J.T. Spence as one of his favorite professors. CT has taken many classes with Spence, who was instrumental in opening the door to an internship in spring 2015 with City of Covington Solicitor/Assistant City Manager Frank Warnock. The pride in his student was evident, as Professor Spence said, "(Chris) is the number one running back on the TMC football team (for the second year), a member of the National Political Science Honor Society, and completed a most interesting internship in Covington with the city's legal office where he developed legislation that was adopted by the city's elected officials expanding the city's diversity goals and objectives."
CT interned with the City of Covington as a result of submitting an application and resume, leading to a face-to-face interview with Warnock. The Assistant City Manager said of CT, "When I first met Chris, I knew immediately that he is quite bright, willing to learn, willing to share, and had a desire to be a positive influence on others." CT was given a major project to complete during his semester under the tutelage of Warnock, "He was tasked with writing a diversity statement for the City of Covington. He conducted research. He put a lot of effort and thought into the project. He was (also) asked to speak before several forums, including a Human Rights seminar, and the Board of Commissioners of the City of Covington. The end result was a Diversity Statement that was adopted by the Board of Commissioners." The statement was also nominated for "Champion of Diversity" at the Northern Kentucky Chamber 2016 Business Impact Awards. Warnock shared, "I learned a lot about diversity working with him. I learned perspective must be considered and appreciated."
The internship with the City of Covington fulfilled CT's experiential learning requirement to earn his degree at TMC and also gave him an opportunity to impact the direction the City takes when it comes to diversity. It also opened his eyes to the need to stand out when it comes to applying for future positions, particularly in politics. Although the diversity statement was his major project, CT spent time shadowing young professionals and up-and-coming lawyers, helping them complete research in contract law filings for the city. Working closely with Warnock made it apparent that to stand out, even in local politics, would require that CT advance his education and sharpen the critical thinking skills that his TMC liberal arts education was providing. Warnock remarked, "I tried to convince Chris to go to law school. He would make an excellent attorney. I don't know if he will do that or not, but I do know that he will be successful in whatever endeavor he chooses."
When asked what his future plans hold, CT stated, "Education is something that I plan to pursue, whether it's my master's here at Thomas More or a law degree at Chase Law School at NKU. Since I was a kid, my mother has preached education, and especially in our economy today, furthering my education is the best thing for me." CT also stressed that, though this is a time to work hard on your studies and other interests, it's also the time you will meet the people who most impact your life. Get out, get involved, meet people outside of your normal parameter of friends, and have some fun. Those sound like words of wisdom from someone to look for as a political contender in the years to come!
__________________________________________________
City of Covington Diversity Statement
The City of Covington shall strive to provide and maintain a diverse workforce of individuals with various backgrounds and with differing interests and goals—this sort of diversity should not only reflect the wide variety of individuals in the community of Covington, but welcome newcomers to the City of Covington as well.
The idea of diversity embodies acceptance and respect.
It demonstrates patience when there are differences between people and firmly embraces the commonalities that we share together.
The City of Covington believes diversity produces an environment that fosters appreciation of values, skills, and abilities.
The City of Covington believes in diversity that appreciates "differences" and readily includes groups of people that have experienced discrimination and underrepresentation.
This includes discrimination based on race, color, religion, sex, sexual orientation, age, national or ethnic origin, physical or mental disability, marital status or any other characteristics that are protected under the law.
The City of Covington values principles that go against the insular mindset of the status quo.
The objective of this diversity effort is to create a culturally progressive and socially reflective workforce that represents, supports and celebrates diversity at all levels within City Hall, and the City of Covington.
As a legislative body, City Hall believes recognizing and valuing different perspectives is healthy for our democracy and our society here in Covington, Kentucky.