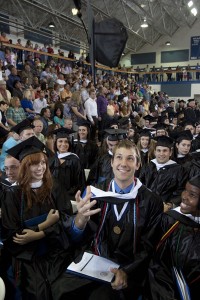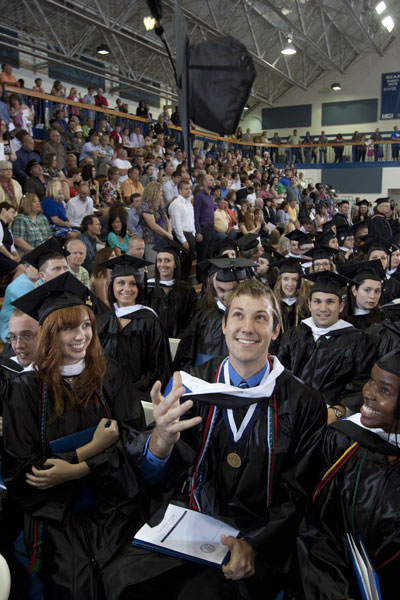 Outgoing President Sr. Margaret Stallmeyer to Deliver Commencement Address
Thomas More College in Crestview Hills, Ky., will hold its 85th Commencement Exercises Sat., May 11, 2013 at 1:30 p.m. in honor of approximately 341 graduates. The ceremony will be held on the front lawn near the bell tower. (In case of inclement weather, it will be held in Connor Convocation Center.) The preceding Baccalaureate Mass will take place at 10:30 a.m. in the newly completed Mary, Seat of Wisdom Chapel.
Thomas More College President Sr. Margaret Stallmeyer, C.D.P., will offer the commencement address.  Stallmeyer has served the College since June 1, 2004. She will retire as the 13th president June 30, 2013. She is a native of the Northern Kentucky/Greater Cincinnati area and received a Bachelor of Arts in Mathematics and Secondary Education from Thomas More College, a Master of Education from Xavier University and a degree in canon law from The Catholic University of America in 1987. Thomas More College will award her with a Doctor of Humane Letters honoris causa.
Kyle Lyons will be awarded the Presidential Service Award, which is conferred upon a graduating senior who has made service to school and the community a priority in his or her life and who places commitment to others at the height of academic and personal pursuits. Assistant Professor of Business Administration Richard Shuey will receive the Outstanding Full-TimeTeacher Award, and Christopher Bryson will receive the Outstanding Part-Time Teacher Award.  Thomas More College will also award Ernest B. Hillenmeyer Jr., of Maysville, Ky., with a Doctor of Humane Letters honoris causa.
Chancellor of Thomas More College and Bishop of the Diocese of Covington The Most Reverend Roger J. Foys, D.D. will oversee the commencement ceremony. Vice President for Academic Affairs and Dean of the College Dr. Bradley A. Bielski will highlight faculty and student honors. Chair-Elect of Thomas More College Board of Trustees John F. Hodge III will offer congratulatory remarks.
For more information about Thomas More College, please visit www.thomasmore.edu or call (859) 341-5800.