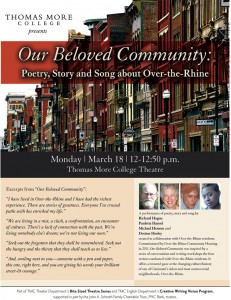 Thomas More College in Crestview Hills, Ky., presents a performance of Our Beloved Community: poetry, story and song by Richard Hague, Pauletta Hansel, Michael Henson, and Desirae Hosley created in collaboration with Over-the-Rhine residents. Join us on Monday, March 18 from noon to 12:50 p.m. in Thomas More College's Theatre. This event is free and open to the public.
Commissioned by Over-the-Rhine Community Housing in 2011 Our Beloved Community was inspired by a series of conversations and writing workshops the four writers conducted with Over-the-Rhine residents. It offers a textured gaze at the changing culture/history of one of Cincinnati's oldest and most controversial neighborhoods, Over-the-Rhine. Our Beloved Community is part of TMC Theater Department's Bite Sized Theatre Series and TMC English Department's Creative Writing Vision program, supported in part by the John A. Schroth Family Charitable Trust, PNC Bank, trustee.
Our Beloved Community is written and performed by:
Richard Hague, facilitator of Thomas More College's Community of Creative Writers series, most recent book is Recent Extinctions: New & Selected Poems.
Pauletta Hansel, Writer-in-Residence at Thomas More College, an author of four books of poetry including The Lives We Live in Houses and What I Did There.
Michael Henson, author of the novella Tommy Perdue, and six other books of poetry and prose, many set in Over-the-Rhine, where he lived and worked for many years.
Desirae Hosley, a performance poet ("The Silent Poet") who has led cultural programs at the Urban Appalachian Council and elsewhere.
Excerpts from Our Beloved Community:
"Seek out the forgotten that they shall be remembered. Seek out the hungry and the thirsty that they shall teach us to live." from Our Beloved Community
"I have lived in Over-the-Rhine and I have had the richest experience.  There are stories of greatness.. Everyone I've crossed paths with has enriched my life." from Our Beloved Community
"We are living in a mix, a clash, a confrontation, an encounter of cultures. There's a lack of connection with the past. We're living somebody else's dream; we're not living our own." from  Our Beloved Community
"And, smiling next to you—someone with a pen and paper, this one, right here, and you are giving his words your brilliant street-lit courage." from Our Beloved Community