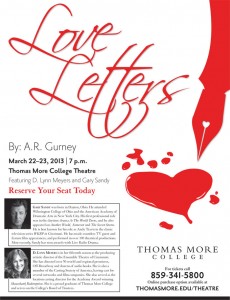 Tickets go on sale to public Feb. 23
Thomas More College presents Love Letters by A. R. Gurney Friday and Saturday, March 22 and 23 at 7 p.m. Guest artists Gary Sandy and D. Lynn Meyers will perform this Pulitzer Prize-nominated play that details the charming, 50-year relationship between two friends, Andrew and Melissa.
Sandy is best known for his role as Andy Travis in the classic television series WKRP in Cincinnati. He has made countless TV guest and feature film appearances, and performed in over 100 theatrical productions. Of late, he has focused his talent on award-winning radio drama. Meyers is a graduate of Thomas More College and is in her 15th season as artistic director of Ensemble Theatre of Cincinnati. She has directed over 50 world and regional premieres, Off-Broadway and dozens of audio books. She has cast for several networks and film companies and served as the location casting director for the Academy Award-winning Shawshank Redemption.
Performances will be held at the Thomas More College Theatre at 333 Thomas More Parkway in Crestview Hills, Ky. General admission tickets are $10 and will be available to the public Feb. 23. For more information, contact Jim Nelson at james.nelson@thomasmore.edu or (859) 344-3421 or Alana Ghent at alana.ghent@thomasmore.edu or (859) 344-3664.  Tickets can be purchased online at www.thomasmore.edu/theatre.
Send in Copies of Your Love Letters to Be Included in the Set!
Fresh off of Valentine's Day, Thomas More College invites the public to send in copies of their treasured love letters to be included in the set of Love Letters.  The letters will be strung as a curtain backdrop during the weekend of March 22-23. Additionally, the letters will be incorporated into a visual display so attendees can read them. Send in your love letter by email to alana.ghent@thomasmore.edu or by mail: Thomas More Theatre Dept./LOVE LETTERS, 333 Thomas More Parkway, Crestview Hills, Ky., 41017 by March 15. (Submissions cannot be returned.)