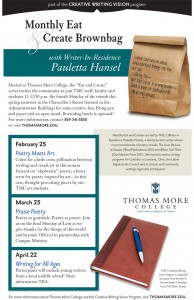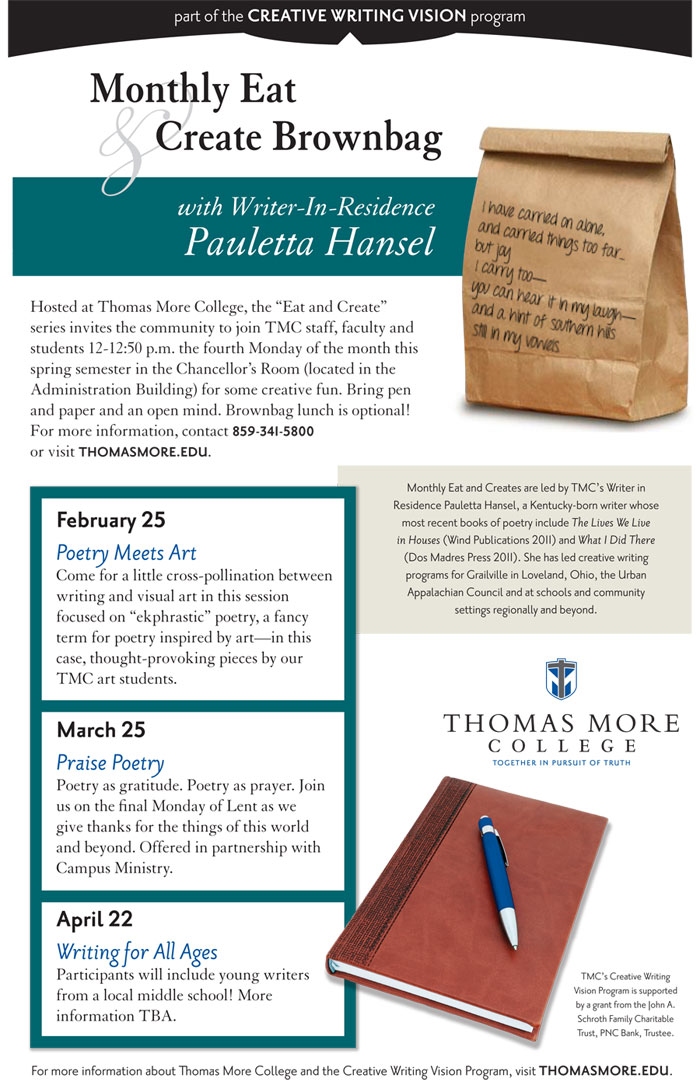 Hosted at Thomas More College, the "Eat and Create" series invites the community to join TMC staff, faculty and students 12:00-12:50 p.m. the fourth Monday of the month this spring semester in the Chancellor's Room (located in the Administration Building) for some creative fun. Bring pen and paper and an open mind. Brownbag lunch is optional!
Monday, February 25: Poetry Meets Art: Come for a little cross-pollination between writing and visual art in this session focused on "ekphrastic" poetry, a fancy term for poetry inspired by art—in this case, thought-provoking pieces by our TMC art students.
Monday, March 25: Praise Poetry: Poetry as gratitude. Poetry as prayer. Join us on the final Monday of Lent as we give thanks for the things of this world and beyond. Offered in partnership with Campus Ministry.
Monday, April 22: Writing for All Ages: Participants will include young writers from a local middle school! More information TBA.
Monthly Eat and Creates are led by TMC's Writer in Residence Pauletta Hansel, a Kentucky-born writer whose most recent books of poetry include The Lives We Live in Houses (Wind Publications 2011) and What I Did There (Dos Madres Press 2011). She has led creative writing programs for Grailville in Loveland, Ohio, the Urban Appalachian Council and at schools and community settings regionally and beyond.
TMC's Creative Writing Vision Program is supported by a grant from the John A. Schroth Family Charitable Trust, PNC Bank, Trustee. For more information about Thomas More College' Creative Writing Vision Program, visit www.thomasmore.edu.