Ms. Caitlin Shaughnessy Dwyer, adjunct professor, department of theology, presented "Critiquing Lean In: Women, Work, and the Will to Lead, by Sheryl Sandberg. Is a work-family balance possible for women or is that even the right question?" at The Edith Stein Project, an annual conference held at the University of Notre Dame, that seeks to articulate the authentic meaning of human dignity.

Dr. Ray Hebert, professor, department of history and dean of the college emeritus, received the Two-Headed Calf Award presented by the Behringer-Crawford Museum for exceptional personal achievement in education. Dr. Hebert also presented "Ireland's Most Intriguing Cities and Sites" in spring 2016 at the Irish Heritage Center in Cincinnati, the Erlanger Branch of the Kenton County Library, and the Behringer-Crawford Museum. The presentation focused on the 100th Anniversary of the famous Easter Rebellion of 1916 in Dublin, Ireland.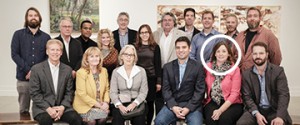 Ms. Elizabeth Neal (circled), assistant professor, studio art, participated in the exhibition State of Painting, which ran from Nov. 11, 2015 – Jan. 6, 2016 in the Anne Wright Wilson Gallery at Georgetown College. The exhibit featured the work of Kentucky college and university painting professors.

Dr. Jack Rudnick, Jr., associate professor, department of business administration, served as a peer-reviewer for academic articles and presentations on the topic of New Knowledge Creation delivered at the Accreditation Council for Business Schools and Programs  (ACBSP) International Annual Conference held in Barcelona, Spain. Dr. Rudnick co-authored an article with Director of TAP Anthony Schumacher and Dr. Daniel Cahill of Horan Insurance, on critical thinking and online learning, "Leverage the Heterogeneity of Critical Thinking: Create New Classroom Knowledge," (excerpt starts on page 18) which has been accepted for publication in the ACBSP Scholarly Journal, Transnational Journal of Business. Dr. Rudnick has also had his publications selected for the United States Department of Justice Database (USDOJ) Elder Abuse and Neglect section website. The objective of the Database section is to provide a comprehensive catalog of literature relevant to the area of elder mistreatment. Dr. Rudnick's research on the role of faith-based entities in the prevention and amelioration of "elder maltreatment" was also featured in the presentation On Elder Abuse, Neglect, and Exploitation at Nebraska's Concordia University.