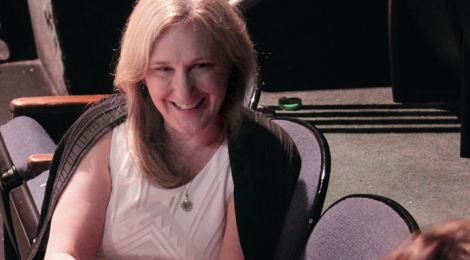 D. Lynn Meyers '77 does not hesitate a bit when you ask her about actor Don Cheadle. "He's amazing. He is so brilliant. When he walks into a room you know why they call somebody a star. He brings with him an energy that seriously feels like a light from within," she says. Meyers would know. As the local casting director for Cheadle's movie "Miles Ahead," filmed in Cincinnati during the summer of 2014, she spent quite a bit of time with Cheadle.
Sitting in the darkened front row of the Ensemble Theatre in Over-the-Rhine, where Meyers is Artistic Director, Meyers seems completely unaware she emits a luminescence of her own, a trait the stars themselves are likely attracted to. When it comes to star power, Meyers has had no shortage in her life. She has been involved in casting critically acclaimed movies like "Shawshank Redemption." In the past couple of years, Meyers helped cast several films shot in Greater Cincinnati including "Goat" and "Carol" with big-name Hollywood talent like James Franco, Cate Blanchett, Rooney Mara, and Ewan McGregor just to name a few. She is currently working on two projects shooting in Cincinnati, one with Bruce Willis, the other with Mariah Carey.
"I think Thomas More College makes better people. I don't think you can walk out of Thomas More the way you walked in. The college is dedicated to individual success and a collective sense of doing the right thing." 
Meyers didn't grow up rubbing elbows with Hollywood A-listers. She was raised on Cincinnati's west side and recalls an attraction to theater at a young age. "In my high school years, particularly, I found that theater was a way to express ideas that maybe people were more open to than in a classroom or church," she says. Meyers says three colleges, including Brown, offered her scholarships. But when, during her senior year of high school, she says she stood up for something she considered unjust, the scholarship offers disappeared.
"Thomas More came about, some people would say, by accident," Meyers said. "I would say by divine intervention." Meyers' mom had attended a meeting for the National Secretaries Association on TMC's campus and she suggested Meyers give the school a call. She did and was invited to visit.
"When I walked through the school I felt instantly at home," Meyers recalls. "I felt like I was falling in love. I knew it was the right place. I knew it. My heart was just so happy." In four years at Thomas More College, Meyers earned degrees in English, theater and education. After graduation Meyers nearly ended up as a reservationist for Delta, when the Cincinnati Playhouse in the Park called. Meyers recalls that the call went something like, "We don't think you're qualified but we'll give you a shot."
A shot was all Meyers needed. She spent ten years at the Playhouse rising from assistant to casting director. Then her career took her to New York, Los Angeles, Canada and back to Los Angeles, where she worked in casting movies, television shows and commercials as well as abridging audio books.
Meyers received a call in 1995 from the Ensemble Theatre in Over-the-Rhine. "The call said 'Hey, can you come back home for three months to help us close the Ensemble Theatre? It's a theatre in a tough neighborhood and it's going through a tough time, " Meyers recalls. It was the one job Meyers wasn't good at. Rather than closing the theatre as she was hired to do, she set out to save it. At the time, the Theatre had more than one million dollars in unsecured debt. "We went to the board and said you can't afford to close," she says. "The only way to make this right is to work our way out. It took seven years but we did it."
And in the 20 years Meyers has been at the helm of the Ensemble Theatre, the audience has grown from about a dozen a show to more than 1,200 a week. The changes she's witnessed haven't only been inside the building. Meyers recalls many years when the Theatre's neighborhood wasn't safe. "We told actors to exit the front door and go right. We warned them to never turn left" she recalls. Just as the Theatre itself experienced a transformation, the Theatre's neighborhood is experiencing a renaissance as hundreds of millions of dollars have been invested in revitalization projects in Over-the-Rhine.
Currently celebrating its 30th Anniversary Season, the Ensemble Theatre has come a long way since Meyers took over twenty years ago. What began as a three-month project has turned into a two-decades long labor of love, one that continues to attract record crowds. "If I didn't have faith that there is a much higher power than me, I would chalk it up to the fact I must be the luckiest person alive," says Meyers. She also gives credit to her alma mater, "I think Thomas More College makes better people. I don't think you can walk out of Thomas More the way you walked in. I think the college is dedicated to individual success and a collective sense of doing the right thing," she says.
As for the Ensemble Theatre, "I think the future is very bright," she says. It's a fitting prediction from the woman who brought light to a thriving theatre that was scheduled to go dark 20 years ago.
Read the feature in Express Cincinnati from fall 2015, click here.