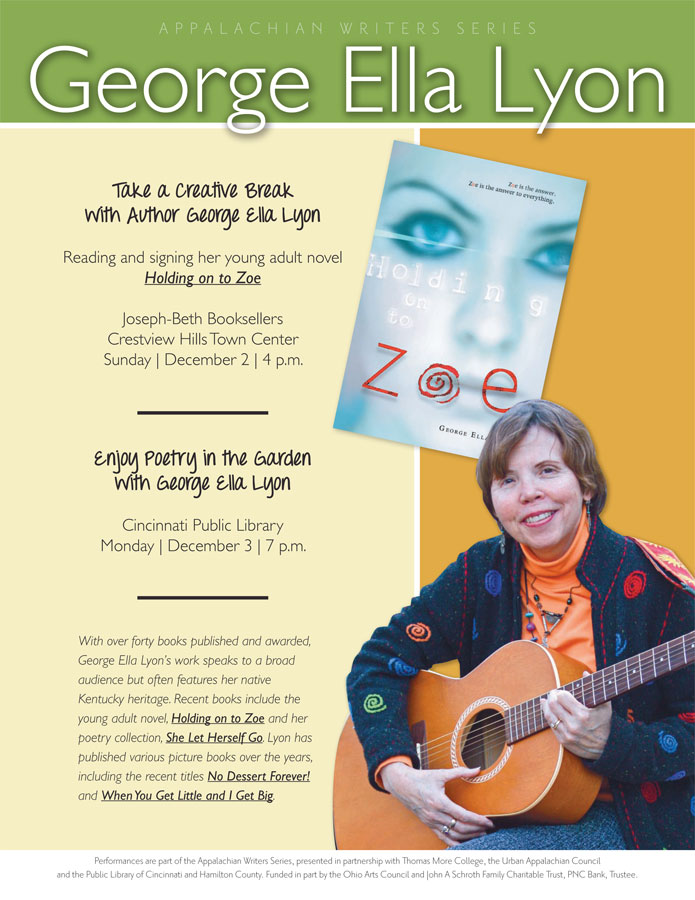 Thomas More College's Creative Writing Vision Program invites you to take a creative break from the bustle of the holiday season with acclaimed author and poet George Ella Lyon. Join us at Joseph Beth Booksellers in Crestview Hills, Ky., on Sunday, December 2 at 4 p.m. as George Ella Lyon reads selections from her young adult novel Holding on to Zoe and other books. This free reading will be followed by conversation and a book signing.  On Monday, December 3 at 7 p.m. Ms. Lyon will speak about poetry and the writing life, and offer an opportunity to start a poem of your own in the Cincinnati Public Library's Popular Library Reading Lounge, downtown Cincinnati.
With over forty books published and awarded, George Ella Lyon's work speaks to a broad audience but often features her native Kentucky heritage. Recent books include the young adult novel, Holding on to Zoe, her poetry collection, She Let Herself Go and a re-release of the popular anthology, A Kentucky Christmas. Lyon has published various picture books over the years, including the recent titles No Dessert Forever! and When You Get Little and I Get Big.
These events are part of the Appalachian Writers Series, presented in partnership with Thomas More College, Joseph Beth Booksellers, the Urban Appalachian Council and the Public Library of Cincinnati and Hamilton County. Funded in part by the Ohio Arts Council and John A Schroth Family Charitable Trust, PNC Bank, Trustee.