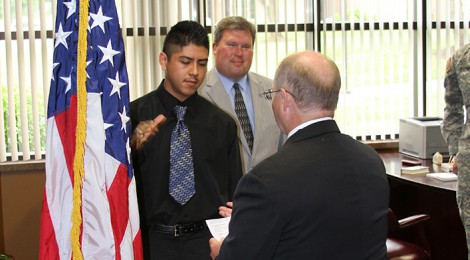 Jesus Avila began his college career at Thomas More College in the fall of 2014 with the goal of achieving a bachelor's degree in business administration while participating as a student athlete on the Saints football team. As the first member of his family to attend college, Jesus is the pioneer in higher education and a role model for his younger siblings and cousins. While still attending high school in the Cincinnati area, Jesus played football and received feedback from his coach that with his exceptional work ethic he would make a great soldier. With that in mind, Jesus pursued this interest of serving his country upon arrival at TMC and was introduced to the Reserve Officer Training Corps by associate professor Eddie Oestreicher.
Jesus joined the United States Army in the winter of 2015. His swearing in ceremony was conducted on the TMC campus in the president's office with President David A. Armstrong, Dr. Eddie Oestreicher, military personnel Sergeant Dornbush and Sergeant First Class Schneider, and Martha Solorzano (Jesus mother) present to witness the occasion. Jesus attended both Basic Training and Advanced Individual Training in the spring semester of 2015. As a result of his academic grades and his exceptional reports of participation in his military training, Jesus became qualified for the Reserve Officer Training Corps Scholarship becoming the first Thomas More College student to receive this honor.
Upon completion of his four-year program at TMC, Jesus will be commissioned and enter the military as a Second Lieutenant. He can choose to pursue active duty in the United States Army or join the Army National Guard and continue in the military part time while working in his field of study. Qualification is based on his final two years of college. "When you graduate from college it's going to put you ahead of other people when you apply for jobs in your field of study. It will look good (to employers) knowing that I was a college student and an athlete, and I completed ROTC. That's what motivated me to do it (ROTC)," says Jesus. In addition to being a first generation college student, Jesus is also the first generation in his family to serve as a member of the military.
Jesus has completed more than 180 days of training, which makes him eligible for VA benefits including additional money to be used for graduate studies. He is eligible for military benefits such as medical and dental coverage, a stipend to assist with other costs associated with attending college, and special programs for buying a house. Congratulations to Jesus on this outstanding achievement.
TMC encourages anyone interested in having their college education paid for by the military to contact Dr. Eddie Oestreicher at 859-344-3401 or edward.oestreicher@thomasmore.edu to learn more about the ROTC program.