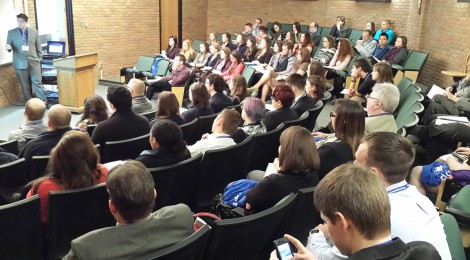 Thomas More College biology students swept the cellular/molecular poster presentation awards at the Beta Beta Beta (TriBeta) NE-4 Regional Conference on March 28, 2015. The event, hosted by TMC's TriBeta Biological Honors Society, Rho Theta Chapter, and held on the Crestview Hills campus, included over 85 participants from 15 different colleges and universities.
Third place was awarded to senior Andrew Merrill for presentation of his work "A Structural and Functional Analysis of Cryptosporidium parvum Pyruvate Kinase." Junior Kevin Burridge took second place for presentation of "Design and Processing of aptPSMA-iRNA: Targeting of BPA-Regulated miRNA and lncRNA in Prostate Cancer," research he completed in collaboration with Pherusa Tarapore, Rahul Rao, and Shuk-Mei Ho. Senior Katie Hagedorn won first place for her presentation of "The Effect of Oral Tolerance on the IL-17 Response," research she completed with TMC senior Michael Stephens.
Due to her first place finish, Katie also received The John C. Johnson Award for excellence in undergraduate research presented in a poster session at a district meeting. This award includes a travel stipend to cover expenses incurred to present the poster at the 2016 Biennial National Convention at Bethel University in St. Paul, Minn.
"We are all very proud of our (Thomas More College) students who won, as well as all those who presented at this conference. It is rewarding to know that our students and their research can compete and win going up against so many other colleges and universities throughout Ohio, Indiana, and Michigan. The faculty judges that determined these wins were from the other colleges and universities since no faculty judge is permitted to judge students from their own school. This speaks volumes that faculty from outside TMC recognize our student's talents'" commented John R. Hageman, Ph.D., professor in biological sciences at Thomas More College. "Our TriBeta Rho Theta chapter is celebrating their twelfth anniversary and even though we've only been attending regional conferences the last seven years, we have received first place honors in 2010, 2014, and now 2015. Thanks to all of our faculty at Thomas More College, we have students who can compete with the best of them," he added.
Congratulations to all of TMC's TriBeta members who presented at the NE-4 Regional Conference, for representing Thomas More College so well and especially Katie Hagedorn, Kevin Burridge, and Andrew Merrill for collecting first, second, and third place in the cellular/molecular poster presentations.
_________________________________
John R. Hageman, Ph.D., faculty advisor of the TMC chapter of the TriBeta Biological Honors Society expressed thanks and gratitude to all staff members of the library, security, and food service, as well as Greg Macke for website development, Lynn Finn in the bursar's office, and Amy Flaugher and Lisa Scheper in office services, for all the behind-the-scenes assistance which helped create a very smooth and successful conference.